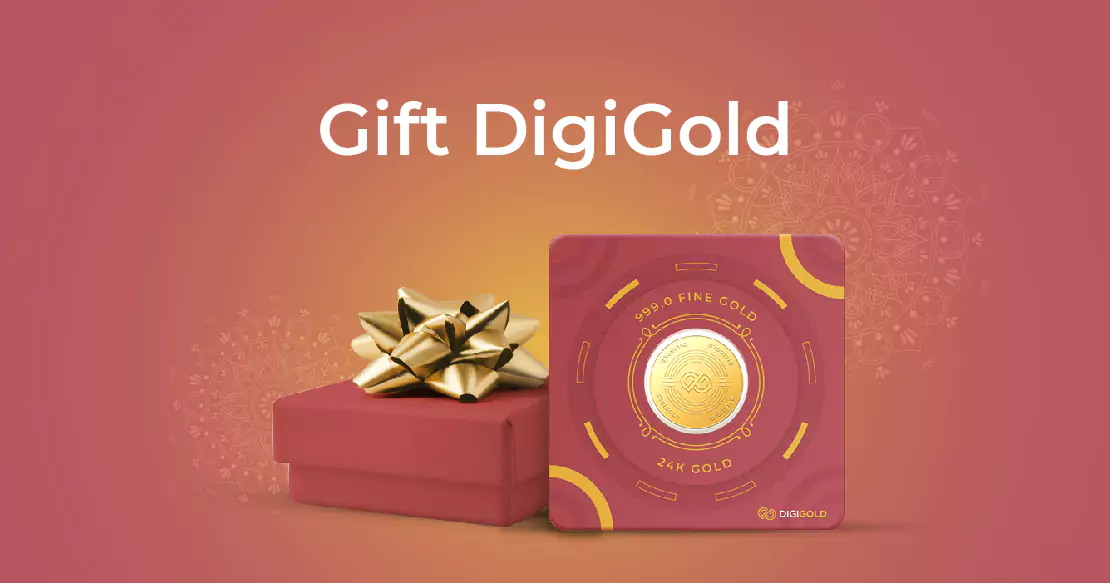 Most Unique Gift for everyone on your list!
Still, confused about what to gift? We all have been through this, wondering what should be the perfect gift for our loved ones all day and then ending up giving a common gift that does not make them feel special.
Talking about common gifts brings us to gold. We all have gifted gold or been gifted gold on some occasion or the other. And it is not at all a bad idea.
It's lets the other person know that you care for their growth and future.
After all, it's value have increased so much since the last 10 years. Do you know? the price of 10gms of 24 carat gold in 2010 was ₹18500 which rose to ₹48,651 in 2020. It has increased even more in present.
And no, we are not asking you to gift gold in a conventional way. That would again become a cliche gift.
We recommend gifting Digital Gold! A new-age & out-of-box way to gift your loved ones is fruitful in the present, and the value of the gift outgrows in the future. So, let's make a wise choice and choose DigiGold to gift.
Why? Let us find out -
हिंदी में सुनने के लिए प्ले बटन दबाए
Its Something That You Can Buy & Gift Online
You can gift digital gold online just by using your phone and do not need to go through the hassles of visiting several shops, finding a trusted jeweller, ensuring purity & so on.
Also, those bulky gifts now appear to be very heavy. And, there is always the possibility of them being damaged during or after transport.
This is no longer the case, thanks to digital gold because now you can give them full control over when what, and where to buy.
WORDS OF WISDOM :
Gifting gold on Raksha Bandhan might be the warmest & purest gift you can give to your lovely sisters. Many people are confused about the Raksha Bandhan gifting ideas.
Perfect Gift That Is Convenient To Your Budget
Gold coins can also give those things above, don't you think? But what if you want to gift gold less than 1gm??
This is where DigiGold comes into play, as it lets you gift gold from Re.1
But that's not the case, and this feature is for saving, not for gifting. No one should give a gift worth Rs 100.
Now, on every occasion, you can gift 24k love to your loved ones, irrespective of the amount.
WORDS OF WISDOM :
If you are looking for a diwali gift idea, DigiGold would be the perfect precious choice that would fit in your budget.
Special Yet Unusual!
Do you ever consider whether a gift has already been given when choosing a gift? Gifting gold ideas must always be original and appealing.
Whether you're looking for a unique gift for a special occasion or you're simply wanting to support someone's financial future, digital gold is a great option. With its many benefits and easy delivery, there's no reason not to give it a try.
WORDS OF WISDOM :
DigiGold Gift will stand out an serve as best wedding gift for the couple as everyone gifts gold in wedding but no one would have ever thought about gifting digital gold.
Unique Gift That Stays With Them Forever!
There are thousands of ways to gift, but unlike normal gifts, DigiGold's value keeps increasing, similar to the gold price at the market.
An individual will smile more brightly if you give them a down payment on their dream home than when they receive a gift of perfume that costs thousands of rupees but lasts for only a few months.
WORDS OF WISDOM :
On the eve of Guru Purnima, gifting gold might be one of the finest ideas. Your Guru is going to remember you forever for the golden gift.
Guru Purnima gift ideas are very limited because very few people can know the taste of their Guru. Therefore Digital Gold gift is one of the best options "shishya" can go for their Guru.
Uncommon But Better Idea Than Gold Jewellery
You must know that the value of gold rises with time. It acts as an asset.
It also protects them in times of uncertainty.
So rather than gifting something that is not going to stay, it is better to gift something valuable that stays with them forever.
And if you are considering gifting gold jewellery, it's a big no.
Because it will be expensive for you as you will have to pay making charges.
Giving normal box-packed gifts limits their ability to choose the item you select for them. Furthermore, what you've gifted may already exist with them. After all, nobody wants to wear the same design of jewellery again & again.
Then comes DigiGold, a perfect and unique gift that gives a sense of greatness to them.
A Gift In Need Is A Gift Indeed
Gold has always been an important part of Indian history, old kingdoms, Vedas, and all festivals have mentioned gold's importance. Gold is always sacred.
No need to worry, we've done the research for you, and the answer lies in gold's ability to rebound in adverse times, such as epidemics, which has ultimately provided us with a godly help for centuries.
As a gift, DigiGold is more like giving them life insurance that will give them strength during all of the hiccups in their life.
Thoughtful Gift For Every Occasion - Birthday, Anniversary, Or Any Festive
It can be saved for the future when one might need it; also, we all know the price of gold is stable in time & always a piece of good news!
They cannot spend money on impulse purchases as they would with cash. Also, they won't spend spare change on clothes and accessories, which means they're going to save!
The DigiGold that is given as a gift is not instantly redeemed, unlike money or cash. Instead, It remains in insured vaults, where it will stay safe and sound as long as you want to get physical delivery.
Looking for Diwali festival gift ideas? Choose digital gold. Wondering about what to gift on birthday or anniversary? Gift DigiGold. It acts as a perfect gift for every occasion & festival.
All you have to do is download the mobile app and voila!!!
Additionally, it's a great way to express your joy and you don't even have put so much effort into it.
Passing on the legacy
There are still definitive memories of Maharajas, Nawabs, Kings, and Queens, among many people. As you might remember, gold coins were used for gifting "Mudra" during ancient times.
Throughout India's history, gold coins have been given as a reward or token of appreciation as a sign of appreciation.
Since then, it appears that the gesture has never lost its charisma! Gold has always been a suitable gift for Indian weddings simply because it's an antique that you can pass down from one generation to another and keep for multiple generations.
Since then, it appears that the gesture has never lost its charisma! Gold has always been a suitable gift for Indian weddings simply because it's an antique that you can pass down from one generation to another and keep for multiple generations.
Wrapping Up!
The world needs to change how we perceive gifting, and if everything is becoming digital, why not? DigiGold has made gifting simple, fruitful and worthy. A revolutionary way to gift your loved one Gold regardless of any occasion.